Visitor management solution FairMate by dimedis offers Social Login for its online and mobile shops – Trade fairs use the feature for a smartvisitor registration – Next events: glasstec and MEDICA by Messe Düsseldorf
Cologne, August 7 2014 –
FairMate
, the visitor management and ticketing solution made by
dimedis
, now offers a Social Login for its online and mobile shops. For trade fair companies using FairMate, the Social Login greatly simplifies the registration process: Visitors no longer have to enter their personal information by hand, as they can now simply import it from their social network of choice. For public events managed by FairMate, Facebook has proven to be the dominant platform, while trade fairs with a professional audience mostly rely on business platforms like LinkedIn and Xing. Additional networks such as Google+ are available as well. The next upcoming events using the FairMate Social Login are
glasstec
, the international trade fair for glass production and the world's largest trade fair for the medical industry,
MEDICA
. Both events will take place in Düsseldorf. Klaus Friedrich Meier, Division Manager Trade Fairs at dimedis: "The Social Login is a smart opportunity for trade fair companies to collect valid customer data and to offer their visitors a comfortable way to register for events along the way. Upon completion of the ticket transaction, visitors are also encouraged to share their attendance on one or more social networks, making FairMate a pioneer in the field of viral marketing for trade fairs and events. The Social Login is just our first of many steps in this direction – we are working on expanding our digital strategy and will soon present further features designed to leverage social networks and take social marketing for trade fairs to the next level."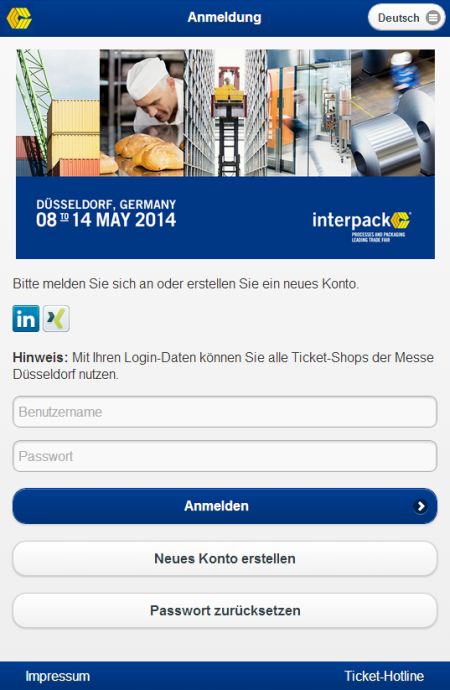 FairMate offers Social Login functionality for its online and mobile shops. Here: interpack
Further information about FairMate is available online at »
www.fairmate.eu
.
Useful Links:
»
glasstec
»
MEDICA
»
FairMate Web-Site

»
Product sheet FairMate
»
FairMate in action (Youtube Video)
»
Photos (Flickr)
»
dimedis FAQ
»
Corporate brochure
About FairMate
The FairMate family of products offers intelligent customer relationsship and visitor management for trade fairs, conventions, events and exhibitions of all sizes. The FairMate range of products revolves around a central database and includes an online shop, a mobile shop, Passbook ticket support and tools for data analysis as well as cash registers, self-service counters and visitor admission terminals on site. FairMate covers every aspect of visitor management: Online ticket sales, fast admission on site and comprehensive statistical data at any given time. FairMate is used successfully in several trade fairs all over the world. Customers like Stockholmsmässan, Reed Exhibitions Germany, Messe Düsseldorf, Messe Stuttgart, Westfalenhallen Dortmund and Koelnmesse rely on FairMate. For more information please visit: »
www.fairmate.eu
About dimedis
dimedis stands for digital media distribution. Founded 1996 in Cologne, the software company is specialized in trade fair- and digital signage solutions. FairMate is a visitor management solution and kompas a digital signage and wayfinding system. The customers are amongst others Messe Düsseldorf, Koelnmesse, Stockholmsmässan, Messe Stuttgart, Reed Exibitions, Westfalenhallen Dortmund, a chain of supermarkets in France called "Casino" and shopping malls from ECE, SEC and mfi. More than 40 employees currently work for dimedis. For more information please visit: »
www.dimedis.eu