dimedis designs new ticket offices for the Westfalenhallen Dortmund – A responsive design and a look and feel that matches the trade fair portals – Next trade fairs: "JAGD & HUND", "CREATIVA" and "INTERMODELLBAU
Cologne, Dezember 15, 2017 – Together with
dimedis
,
Westfalenhallen Dortmund
has redesigned its trade fair ticket offices and adapted them to the portal design. The ticket offices now have a responsive design and a look and feel that matches the trade fair portals. The changeover affects all trade fairs held at the Westfalenhallen Dortmund. The next trade fairs with the new design will be "JAGD & HUND", "CREATIVA" and "INTERMODELLBAU".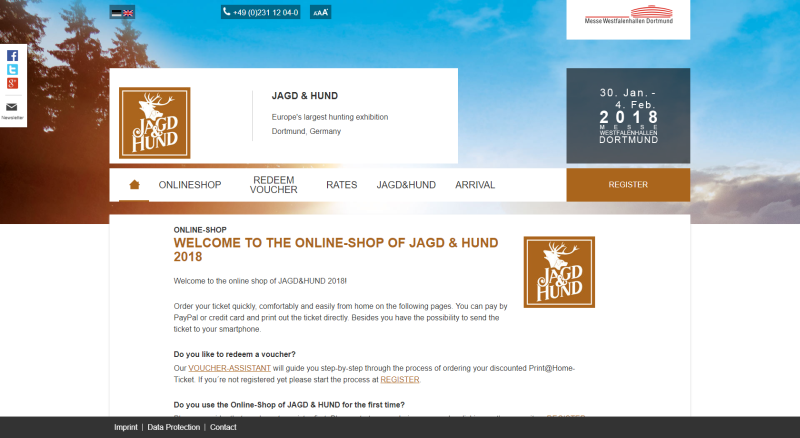 Revamped ticket office of the trade fair "JAGD & HUND" (Source: dimedis)
Besides creating the design concept, dimedis was responsible for the design concept, the coordination tasks and the subsequent configuration and rollout of the ticket office.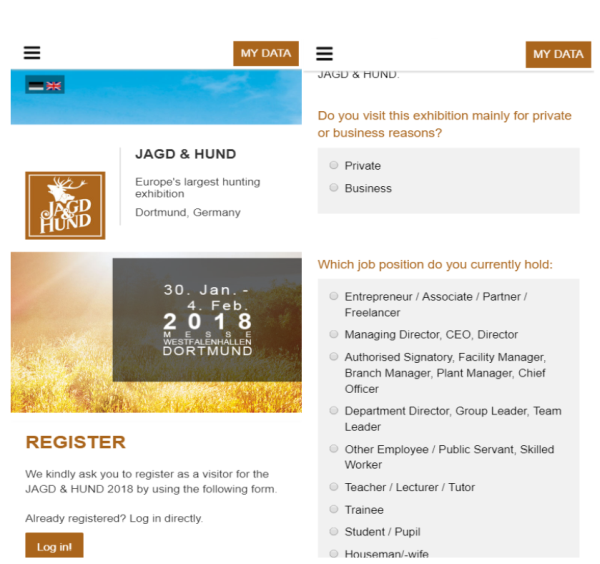 The responsive ticket office of the Jagd&Hund trade fair on a smartphone (Source: dimedis)
The revamped ticket office is based on the
FairMate OnlineShop
, a subproduct of
FairMate
, the all-round solution for trade fairs and events.
About dimedis
dimedis stands for digital media distribution. Founded 1996 in Cologne, the software company is specialized in trade fair- and digital signage solutions. FairMate is a visitor management solution and kompas a digital signage and wayfinding system. The customers are amongst others Messe Düsseldorf, Koelnmesse, Stockholmsmässan, Hamburg Messe und Congress, Messe Stuttgart, Reed Exibitions Deutschland, Schalke 04, Borussia Dortmund, Bosch, snipes, a chain of supermarkets in France called "Casino" and shopping malls from ECE, SEC, mfi and Abu Dhabi Mall. More than 65 employees currently work for dimedis. For more information please visit: www.dimedis.de oder blog.dimedis.de.
About FairMate
FairMate is the complete visitor management solution for trade fairs, events and exhibitions of any size.  The flexible and powerful system combines tools for entry, ticketing, marketing and administation all in one and covers every aspect of the visitor management process – before, during and after events. FairMate consists of modular and integrable hard- and software solutions that  facilitate the relationship between visitors, exhibitors and event organisers. FairMate enables you to plan your visitor marketing well in advance, maintain an overview and  respond quickly to any issues that might arise. FairMate is used successfully in several trade fairs all over the world. Customers like Stockholmsmässan, Reed Exhibitions Germany, Messe Düsseldorf, Hamburg Messe und Congress, Messe Stuttgart, Westfalenhallen Dortmund and Koelnmesse rely on FairMate. For more information please visit: www.fairmate.eu