FairMate website relaunch – new product structure and icons for the trade fair visitor managment and entry solution – a 360° approach lies at the core
Cologne, 29 October 2014 –
dimedis
presents a redesigned website for FairMate, the visitor management and ticketing solution for trade fairs. The core benefit to customers is the introduction of new self-explanatory product names. The visual communication and the 360° approach are supported by eye-catching icons. As FairMate is a solution for the global fair trade industry, all product names have now been created in English. The new website has been online since 20 October.
Klaus Friedrich Meier, Division Manager for Trade Fairs for dimedis GmbH comments: "We want to communicate our 360° approach more intensely and make our product more tangible for the user. We also aim to gain more presence internationally which is why all the FairMate applications now have a standardised english name base "FairMate ProductName". We have also ensured that the terms used are self-explanatory and that the product names distinctly communicate their product function to the customer. As an example: FairMate Compact is now FairMate Entry. New icons have been developed for all applications. The new website
www.fairmate.eu
summarises all changes.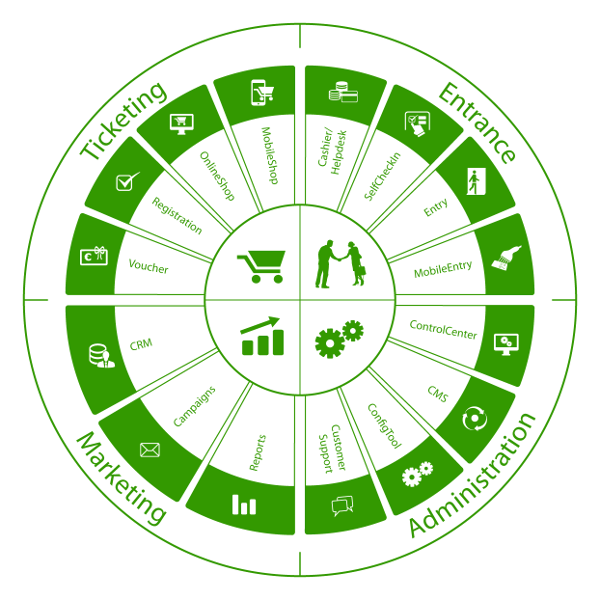 The new FairMate: 360° solution for trade fairs and events (Graphics: dimedis)




All further information about the new FairMate is available on the internet under
www.fairmate.eu.
Important links:
» Circle graph "360° solution FairMate"
» The new FairMate website

» FairMate in use on site, set-up and function (Youtube)
» Photos (Flickr)
» Printable photo of Klaus Friedrich Meier
About FairMate
The FairMate family of products offers intelligent customer relationsship and visitor management for trade fairs, conventions, events and exhibitions of all sizes. The FairMate range of products revolves around a central database and includes an online shop, a mobile shop, Passbook ticket support and tools for data analysis as well as cash registers, self-service counters and visitor admission terminals on site. FairMate covers every aspect of visitor management: Online ticket sales, fast admission on site and comprehensive statistical data at any given time.
FairMate is used successfully in several trade fairs all over the world. Customers like Stockholmsmässan, Reed Exhibitions Germany, Messe Düsseldorf, Messe Stuttgart, Westfalenhallen Dortmund and Koelnmesse rely on FairMate.
For more information please visit:
» www.fairmate.eu

About dimedis
dimedis stands for digital media distribution. Founded 1996 in Cologne, the software company is specialized in trade fair- and digital signage solutions. FairMate is a visitor management solution and kompas a digital signage and wayfinding system. The customers are amongst others Messe Düsseldorf, Koelnmesse, Stockholmsmässan, Messe Stuttgart, Reed Exibitions Deutschland, Westfalenhallen Dortmund, a chain of supermarkets in France called "Casino" and shopping malls from ECE, SEC and mfi. More than 40 employees currently work for dimedis.
For more information please visit: »
www.dimedis.eu
or »
blog.dimedis.de