Visitor management solution FairMate by dimedis offers Social Login for its online and mobile shops – Trade fairs use the feature for a smart visitor registration – Next events: glasstec and MEDICA by Messe Düsseldorf
Cologne, October 1 2014 – FairMate, the visitor management and ticketing solution made by dimedis, now offers a Social Login for its online and mobile shops. For trade fair companies using FairMate, the Social Login greatly simplifies the registration process: Visitors no longer have to enter their personal information by hand, as they can now simply import it from their social network of choice.
For public events managed by FairMate, Facebook has proven to be the dominant platform, while trade fairs with a professional audience mostly rely on business platforms like LinkedIn and Xing. Additional networks such as Google+ are available as well. The next upcoming events using the FairMate Social Login are glasstec, the international trade fair for glass production and the world's largest trade fair for the medical industry, MEDICA. Both events will take place in Düsseldorf.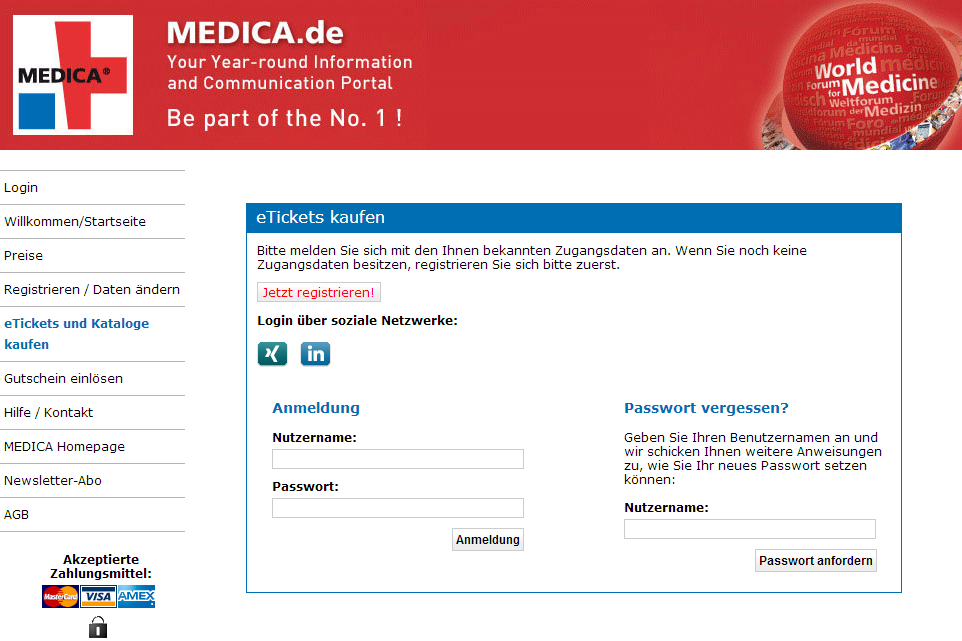 FairMate offers Social Login functionality for its online and mobile shops. Here: MEDICA

Klaus Friedrich Meier, Division Manager Trade Fairs at dimedis: "The Social Login is a smart opportunity for trade fair companies to collect valid customer data and to offer their visitors a comfortable way to register for events along the way. Upon completion of the ticket transaction, visitors are also encouraged to share their attendance on one or more social networks, making FairMate a pioneer in the field of viral marketing for trade fairs and events. The Social Login is just our first of many steps in this direction – we are working on expanding our digital strategy and will soon present further features designed to leverage social networks and take social marketing for trade fairs to the next level."